SKU:195
Regular price
$ 80.00 USD
Regular price
Sale price
$ 80.00 USD
Unit price
per
Sale
Sold out
Spider X Backpacker Kit
SKU: 195


DESCRIPTION:
The Spider X Backpacker Kit is a versatile, multi-use carrying system that allows you to carry a light to medium weight camera with comfort and ease and is the perfect carrying solution for anyone looking for a strap-free system, and allows you to carry a mirrorless camera with comfort and ease, using any belt.
You can clip the Spider X Holster onto any belt, or clip it directly into the Backpack Adapter, and this change can be done in seconds!


Spider X Camera Holster
The Spider X Holster features a two-position, self-locking design for both security and quick access in any shooting situation. The holster will automatically lock when you pair it with one of our Spider camera plates. To unlock the holster, lift the lock lever upwards and remove your camera. For even faster access, you can disengage the lock by pressing the lock lever up until it clicks, it will remain unlocked until you push the lever back down into the self-locking position. Keeping it in the "unlocked" position keeps your camera secure and easily accessible for a quick draw.


Mirrorless Camera Plate
Light weight and durable, the Spider Mirrorless Camera Plate is designed for mirrorless cameras. The sliding plate design accommodates most mirrorless camera bodies and does not block the battery door. It attaches to the camera's 1/4"x20 tripod mount, and features anti-slip rubber pads for stable, secure install, and an anti-twist Spider pin for added security. The Spider Mirrorless Camera Plate has built-in compatibility for Arca-Swiss style tripods, and acts as an Arca Swiss tripod adapter. It can also be used with other style tripod adapter plates.


Spider Backpack Adapter
The Backpack Adapter fastens to your backpack's strap, or the front of the Adapter can be looped through any casual belt. The camera pad on the Backpack Adapter has an elastic velcro strap, this is used to secure the camera lens when not in use, preventing excessive camera bounce while also protecting against scuffing.

The Spider X holster can also be removed from the adapter and fastened to any belt for use on the hip. You can also use the entire Backpacker kit with any belt. 

The Backpack Adapter is compatible with SpiderLight or Spider X Camera Holsters and allows you to easily and securely clip your holster into the Backpack Adapter.


The Backpack Adapter is compatible with our AS2 (Arca Swiss) Adapter Plate, and our AS-RC2 (Arca Swiss / Manfrotto RC2) Adapter Plate. Attach the plate to your camera and slide it into Backpack Adapter as an alternative way to carry on the go!
GoPro Compatible Adapter Plate
This adapter plate pairs with our Spider Backpack Adapter, and will pair with GoPro style brackets and camera cases.

PRODUCT HIGHLIGHTS:
INCLUDES:
(1) Spider X Camera Holster
(1) Spider Mirrorless Camera Plate
(1) Adjustment Wrench
(1) Backpack Adapter + Camera Pad
(1) Rubber Spacer Pad
(1) GoPro Compatible Adapter Plate

IMPORTANT:
We do not recommend moving the pre-installed Spider Pin.
We pre-install a pin into the right side with Loctite to ensure a secure hold. If a pin is required for carrying on the opposite side, we recommend purchasing an additional Spider Anti-Twist Pin and installing separately.
Are you using a Mirrorless Camera + Vertical Grip?
The Spider X Holster is not recommended to carry cameras with heavy professional lenses. If you are using a mirrorless camera with a vertical grip, or are using a heavy setup, we recommend our SpiderPro Holster Set instead. 
Share
View full details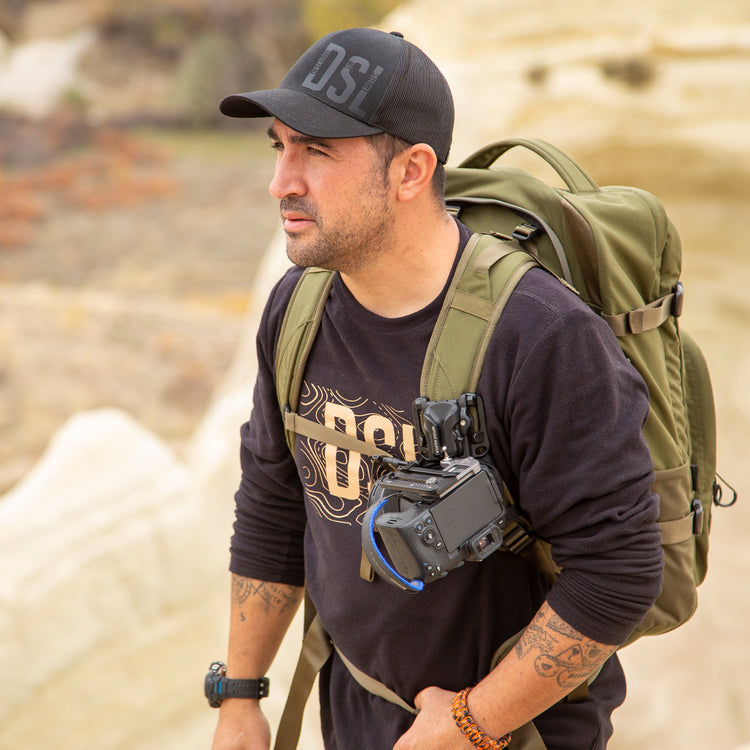 Acima Financing
Cant pay all at once? Finance your purchase through Acima and pay over 90 days interest free.
Sign Up Now