SKU:DSC-RX100M7
Regular price
$ 1,299.99 USD
Regular price
Sale price
$ 1,299.99 USD
Unit price
per
Sale
Sold out
Sensor
SENSOR TYPE

1.0"-type (0.52" x 0.35") Exmor RS® CMOS sensor, aspect ratio 3:2
NUMBER OF PIXELS (EFFECTIVE)

Approx. 20.1 Megapixels
Lens
LENS TYPE

ZEISS Vario-Sonnar T* Lens, 15 elements in 12 groups (8 aspheric elements including AA lens)

F-NUMBER (MAXIMUM APERTURE)

F2.8(W)-4.5(T)

ND FILTER

-

FOCAL LENGTH (F=)

f = 9.0-72 mm

ANGLE OF VIEW (35 MM FORMAT EQUIVALENT)

FOCUS RANGE (FROM THE FRONT OF THE LENS)

AF (W: Approx. 0.27 ft [8 cm] to Infinity, T: Approx. 3.29 ft [100 cm] to Infinity)
OPTICAL ZOOM

8.0x

CLEAR IMAGE ZOOM (STILL IMAGE)

20 M Approx. 16x/10 M Approx. 22x/5.0 M Approx. 32x/VGA Approx. 121x4

CLEAR IMAGE ZOOM (MOVIE)

4K: Approx. 12x / HD: Approx. 16x4

DIGITAL ZOOM (STILL IMAGE)

20 M Approx. 32x/10 M Approx. 44x/5.0 M Approx. 64x/VGA Approx. 121x4

DIGITAL ZOOM (MOVIE)

Approx. 32x4
Screen
SCREEN TYPE

7.5 cm(3.0-type)(4:3)/921,600 dots/Xtra Fine/TFT LCD

ADJUSTABLE ANGLE

Up by approx. 180 degrees, down by approx. 90 degrees

DISPLAY SELECTOR (FINDER/LCD)

Auto/EVF (Manual)/Monitor (Manual)
MS ASSIST MAGNIFICATION

5.3x, 10.7x

TOUCH PANEL

Yes
Viewfinder
SCREEN TYPE/NUMBER OF DOTS

0.39-type electronic viewfinder(OLED), 2,359,296 dots

FIELD COVERAGE

100%

MAGNIFICATION

Approx. 0.59x with 50 mm lens at infinity, -1m-1(diopter) (35 mm equiv.)
EYE POINT

Approx. 20 mm from the eyepiece, 19.8 mm from the eyepiece frame at -1 m-1(diopter) (CIPA standard)

DIOPTER ADJUSTMENT

-4.0 to +3.0 m-1

BRIGHTNESS CONTROL

Auto, Manual (5 steps)
Camera
IMAGE PROCESSING ENGINE

Yes (BIONZ X)

STEADYSHOT (STILL IMAGE)

Optical

STEADYSHOT (MOVIE)

Yes (Intelligent Active Mode, Optical type with electronic compensation, Anti Rolling type)

FOCUS TYPE

Fast Hybrid AF (phase-detection AF/contrast-detection AF)

FOCUS MODE

Single-shot AF, Automatic AF, Continuous AF, DMF, Manual Focus

FOCUS AREA

Wide (357 points [phase-detection AF], 425 points[contrast-detection AF]), Zone, Center, Flexible Spot (S/M/L), Expanded Flexible Spot, Tracking (Wide/Zone/Center/Flexible Spot[S/M/L]/Expanded Flexible Spot)

OBJECT TRACKING

Yes (Tracking)

EYE AF

[Still images] Human (Right/Left Eye Select)/Animal; [Movie] Human (Right/Left Eye Select)

LIGHT METERING MODE

Multi Pattern, Center-Weighted, Spot, Entire Screen Avg, Highlight

EXPOSURE COMPENSATION

+/- 3.0EV, 1/3EV step

ISO SENSITIVITY (STILL IMAGE)(RECOMMENDED EXPOSURE INDEX)

Auto (ISO100-12800, selectable with upper/lower limit), 100/125/160/200/250/320/400/500/640/800/1000/1250/1600/2000/2500/3200/4000/5000/6400/8000/10000/12800 (extendable to ISO64/80), Multi-Frame NR:Auto (ISO100-12800), 100/200/400/800/1600/3200/6400/12800/256005

ISO SENSITIVITY (MOVIE)

Auto: (ISO100–ISO12800 Level, selectable with upper/lower limit), 100/125/160/200/250/320/400/500/640/800/1000/1250/1600/2000/2500/3200/4000/5000/6400/8000/10000/12800

WHITE BALANCE MODES

Auto, Daylight, Shade, Cloudy, Incandescent, Fluor.: Warm White, Fluor.: Cool White, Fluor.: Day White, Fluor.: Daylight, Flash, Underwater Auto, C.Temp./Filter, Custom

WB MICRO ADJUSTMENT

Yes(G7 to M7,57-step)(A7 to B7,29-step)

SHUTTER SPEED

iAuto (4" - 1/2000)/Program Auto (30" - 1/2000)/Manual (Bulb, 30" - 1/2000)/Aperture Priority (30" - 1/2000)/Shutter Priority (30" - 1/2000)6

ELECTRONIC SHUTTER

[Single Shooting] iAuto (4" — 1/32000)/Program Auto(30" — 1/32000)/Manual(30" — 1/32000)/Aperture Priority(30" — 1/32000)/Shutter Priority(30" — 1/32000);, [Continuous Shooting/Single Burst Shooting] 1/8 — 1/32000
APERTURE

iAuto (F2.8/F11 [W])/Program Auto (F2.8/F11 [W])/Manual (F2.8/F11 [W])/Shutter Priority (F2.8/F11 [W])/Aperture Priority (F2.8/F11 [W])

IMAGE CONTROL

Contrast, Saturation, Sharpness, Creative Style, Color Space (sRGB/Adobe RGB), Quality (RAW/RAW&JPEG [Extra fine, Fine, Standard]/JPEG [Extra fine, Fine, Standard])

NOISE REDUCTION

Long exposure NR: On/Off, available of shutter speeds longer than 1/3 sec., high ISO NR: Normal/Low/Off, Multi Frame NR: Auto, ISO 100–25600

DYNAMIC RANGE FUNCTIONS

Off, Dynamic Range Optimizer (Auto/Level 1–5), Auto High Dynamic Range (Auto Exposure Difference, Exposure difference Level (1.0–6.0EV, 1.0EV step)

SHOOTING MODE

AUTO(Intelligent Auto/Superior Auto), Program Auto, Aperture Priority, Shutter Speed Priority, Manual Exposure, MR(Memory Recall) [body 3 sets/memory card 4 sets], Movie Mode(Program Auto, Aperture Priority, Shutter Speed Priority, Manual Exposure), HFR Mode (Program Auto, Aperture Priority, Shutter Speed Priority, Manual Exposure), Panorama, Scene Selection

SCENE SELECTION

Portrait, Sports Action, Macro, Landscape, Sunset, Night Scene, Handheld Twilight, Night Portrait, Anti Motion Blur, Pet Mode, Gourmet, Fireworks, High Sensitivity

CONTINUOUS SHOOTING SPEED (MAXIMUM) (WITH MAX. RECORDING PIXELS)

[AUTO/Electronic Shutter] Continuous Shooting Hi: approx. 20fps, Continuous Shooting Mid: approx. 10fps, Continuous Shooting: approx. 5.0fps, Single Burst Shooting Hi: approx. 90fps7, Single Burst Shooting Mid: approx. 60fps7, Single Burst Shooting Low: approx. 30fps7

 

[Mechanical Shutter] Continuous Shooting Hi: -, Continuous Shooting Mid: approx. 10fps, Continuous Shooting: approx. 3.0fps

 

8910

SELF-TIMER

10sec./5sec./2sec/3 or 5 consecutive shots with 10sec. 5sec. or 2sec. delay selectable/Bracketing shots with 10sec. 5sec. or 2sec. delay selectable/Single Burst shots with 10sec. 5sec. or 2sec. delay selectable

DRIVE MODES

Single, Continuous shooting, Single Burst Shooting, Self-timer, Self-timer(cont.), Cont.-bracketing11, Single-bracketing11, White balance bracketing11, DRO bracketing11

INTERVAL REC

Yes (1–60 sec. interval, 1–9999 shots, AE lock/AE tracking(High/Mid/Low))12

PANORAMA (SHOOTING)

Sweep Panorama

PICTURE EFFECT

[Still Image]:Toy camera, Pop Color, Posterization, Retro Photo, Soft High-key, Partial Color, High Contrast Mono., Soft Focus, HDR Painting, Richtone Monochrome, Miniature, Watercolor, Illustration, [Movie]:Toy camera, Pop Color, Posterization, Retro Photo, Soft High-key, Partial Color, High Contrast Mono.

CREATIVE STYLE

Standard, Vivid, Neutral, Clear, Deep, Light, Portrait, Landscape, Sunset, Night Scene, Autumn Leaves, Black & White, Sepia, Style Box

PICTURE PROFILE

off/PP1-PP10 (Black Level, Gamma(Movie, Still, Cine1-2, ITU709, ITU709 [800%], S-Log2, S-log3, HLG, HLG1, HLG2, HLG3), Black Gamma, Knee, Color Mode, Saturation, Color Phase, Color Depth, Detail, Copy, Reset)

NUMBER OF RECOGNIZED SCENES

[Still Image]: Superior Auto: 44 / iAuto: 33, [Movie]: 44
Flash
FLASH MODE

Auto / Flash On / Slow Synchro / Rear Sync / Flash Off

FLASH TYPE

Built-in, manual pop-up

AF ILLUMINATOR

Auto / Off
BRACKETING

Yes

FLASH RANGE

ISO Auto: Approx. 1.31 ft to 19.35 ft (0.4 m to 5.9 m) (W)/Approx. 3.28 ft to 10.17 ft (1.0 m to 3.1 m) (T), ISO12800: up to Approx. 40.68 ft (12.4 m) (W)/Approx. 22.96 ft (7.0 m) (T)
Recording
COMPATIBLE RECORDING MEDIA

[XAVC S(100Mbps)] SDXC/SDHC Memory Card (UHS-I U3 or higher); [XAVC S(60 Mbps/50 Mbps)] SDXC/SDHC Memory Card (Class 10 or higher); [AVCHD/Still image] Memory Stick Duo, Memory Stick PRO Duo, Memory Stick PRO-HG Duo, Memory Stick Micro13, Memory Stick Micro(Mark2)13, SDXC/SDHC/SD Memory Card (Class 4 or higher), micro SDXC/SDHC/SD Memory Card (Class 4 or higher)13

RECORDING FORMAT

[Still Image]:JPEG(DCF Ver.2.0,Exif Ver.2.31,MPF Baseline compliant), RAW(Sony ARW 2.3 format), [Movie]:XAVC S, AVCHD format Ver.2.0 compatible

RECORDING FORMAT (MOVIE AUDIO)

XAVC S: LPCM 2ch, AVCHD: Dolby Digital (AC-3) 2ch (Dolby Digital Stereo Creator)

COLOR SPACE (STILL)

sRGB, Adobe® RGB

DCF/DPOF

DCF/DPOF/EXIF/MPF

STILL IMAGE NUMBER OF RECORDED PIXELS (IMAGE SIZE)

3:2 mode: 20 M(5,472×3,648)/10 M(3,888×2,592)/5 M(2,736×1,824), 4:3 mode: 18 M(4,864×3,648)/10 M(3,648×2,736)/5M(2,592×1,944)/VGA, 16:9 mode: 17 M(5,472×3,080)/7.5 M(3,648×2,056)/4.2 M(2,720×1,528), 1:1 mode: 13 M(3,648×3,648)/6.5 M(2,544×2,544)/3.7 M(1,920×1,920), Sweep Panorama: Wide(12,416×1,856/5,536×2,160), Standard(8,192×1,856/3,872×2,160)
MOVIE RECORDING MODE (NTSC)

NTSC/PAL Selector: [NTSC] AVCHD: 24 M FX (1,920x1,080/60i)/17 M FH (1,920x1,080/60i), XAVC S 4K: 30p 100 M (3,840x2,160/30p)/30p 60 M (3,840x2,160/30p)/24p 100 M (3,840x2,160/24p)/24p 60 M (3,840x2,160/24p), XAVC S HD: 60p 50 M (1,920x1,080/60p)/60p 25 M (1,920x1,080/60p)/30p 50 M (1,920x1,080/30p)/30p 16 M (1,920x1,080/30p)/24p 50 M (1,920x1,080/24p)/120p 100 M (1,920x1,080/120p)/120p 60 M (1,920x1,080/120p)

MOVIE RECORDING MODE (PAL)

NTSC/PAL Selector: [PAL] mode AVCHD: 24 M FX (1,920 x 1,080/50i)/17 M FH (1,920 x 1,080/50i), XAVC S 4K: 25p 100 M (3,840 x 2,160/25p)/25p 60 M (3,840 x 2,160/25p), XAVC S HD:50p 50 M (1,920 x 1,080/50p)/50p 25 M (1,920 x 1,080/50p)/25p 50 M (1,920 x 1,080/25p)/25p 16 M (1,920 x 1,080/25p)/100p 100 M (1,920 x 1,080/100p)/100p 60 M (1,920 x 1,080/100p)

HFR

Recording: NTSC/PAL Selector: [PAL] mode XAVC S HD: 50p 50M(1920x1080/250fps), 50p 50M(1920x1080/500fps), 50p 50M(1920x1080/1000fps)/25p 50M(1920x1080/250fps), 25p 50M(1920x1080/500fps), 25p 50M(1920x1080/1000fps), NTSC/PAL Selector: [NTSC] mode XAVC S HD:60p 50M(1,920x1,080/240fps), 60p 50M(1,920x1,080/480fps), 60p 50M(1,920x1,080/960fps)/30p 50M(1,920x1,080/240fps), 30p 50M(1,920x1,080/480fps), 30p 50M(1,920x1,080/960fps)/24p 50M(1,920x1,080/240fps), 24p 50M(1,920x1,080/480fps), 24p 50M(1,920x1,080/960fps) Sensor Readout Number of effective pixels: Quality Priority:240fps/250fps(1,824x1,026),480fps/500fps(1,824x616),960fps/1000fps(1,244x420)/Shoot Time Priority:240fps/250fps(1,824x616),480fps/500fps(1,292x436),960fps/1000fps(912x308)

STILL IMAGE NUMBER OF RECORDED PIXELS (IMAGE SIZE) DURING MOVIE

16:9 mode: 17M (5472×3080)/7.5M (3648×2056)/4.2M (2720×1528)

PROXY RECORDING

Yes (1280 x 720 [Approx. 9 Mbps])
Interface
INPUT AND OUTPUT TERMINALS

Multi/Micro USB Terminal14, High-Speed USB (USB2.0), Micro HDMI, Microphone jack (3.5-mm Stereo mini jack)

NFC

NFC forum Type 3 Tag compatible, One-touch remote, One-touch sharing
WI-FI

Yes(IEEE802.11b/g/n(2.4GHz band))

BLUETOOTH

Yes (Bluetooth Standard Ver. 4.1 (2.4 GHz band))
Power
POWER SOURCE

DC 3.6 V (supplied battery)/DC 5.0 V (supplied AC Adapter)

BATTERY SYSTEM

Rechargeable battery pack (NP-BX1)

POWER CONSUMPTION (CAMERA MODE)

Approx. 2.1W with LCD monitor and approx. 2.3W with viewfinder (CIPA standard)

USB CHARGE/USB POWER SUPPLY

Yes (Shooting, Playback)
BATTERY LIFE(STILL IMAGES)(CIPA) 

Monitor:Approx. 260/Approx. 130 min., Monitor (When Auto Monitor off is set to 2 sec):Approx. 310/Approx. 155 min., ViewFinder: Approx. 240/Approx. 120 min.15

BATTERY LIFE(MOVIES ACTUAL SHOOTING)(CIPA) 

BATTERY LIFE(MOVIES CONTINUOUS SHOOTING)(CIPA) 
Others
PLAYMEMORIES CAMERA APPS

-

SHOOTING FUNCTIONS

Face Detection, Face Registration, Still Image Recording (during movie recording), Smile shutter, Grid Line, Quick Navi, Digital Level Gauge (pitch and roll), WB Bracket, DRO Bracketing, MF Assist, Peaking (Display: Off/On) (Level: High/Mid/Low) (Color: Red/Yellow/Blue/White), Zebra, Marker Display, Audio Rec Level, Audio Level Display, Step Zoom/Quick Zoom, Self-portrait timer, TC/UB, Copyright Info, ISO Auto Minimum Shutter Speed, PC Remote Control, Gamma Disp. Assist, [Mov]AF Tracking Sensitivity, [Mov]AF Drive Speed, Set File Name, Touch Shutter/Touch Focus/Touch Tracking, Touch Pad, My Menu, My Dial

PLAYBACK FUNCTIONS

BRAVIA Sync (Control for HDMI), 9/25-frame index view, Auto Orientation, Slideshow, Forward/Rewind (Movie), Delete, Protect, Motion Shot Video, Beauty Effect, Photo Capture, Rating, Automatic Image Rotation
TRILUMINOS COLOR

Yes19

4K IMAGE OUTPUT

Yes

OPERATING TEMPERATURE

0 degrees C. - +40 degrees C. / 32 degrees F. - 104 degrees F.
Print
PRINT

Exif Print, PRINT Image Matching (PIM3)
Size & Weight
DIMENSIONS (W X H X D) (APPROX.)

101.6 x 58.1 x 42.8 mm(4 in. x 58.1 mm x 1 11/16 in.)
WEIGHT (CIPA COMPLIANT)

Approx. 10.7 oz (302 g) (Battery and Memory Card are included) / Approx. 9.8 oz (275 g) (Body Only)
What's In The Box
Rechargeable Battery Pack (NP-BX1), AC Adapter, Micro USB cable, Wrist Strap, Strap Adapter, Instruction Manual
Share
View full details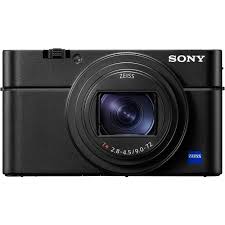 Acima Financing
Cant pay all at once? Finance your purchase through Acima and pay over 90 days interest free.
Sign Up Now