SKU:SEL300F28GM
Regular price
$ 5,999.99 USD
Regular price
Sale price
$ 5,999.99 USD
Unit price
per
Sale
Sold out
1 Lightweight and ideally balanced telephoto 300mm F2.8 The SEL300F28GM is the lightest large-aperture telephoto prime lens in its class1, delivering outstanding optical performance and rendering plus astonishingly fast, precise AF in a versatile lens that weighs just 51.9 oz. (1470 grams)2. The lens has been designed so that its weight is not concentrated near the front, for ideal balance. This can minimize stress and fatigue during long handheld shooting sessions.
2 Breathtaking G MasterTM image quality right out to the edges of the frame An innovative optical design that includes three Super ED (extra-low dispersion) glass elements and one ED glass element effectively subdues axial and lateral chromatic aberration. Outstanding resolution and contrast are maintained right out to the image edges, which also allows for more flexible cropping and editing.
3 Extraordinary resolution and bokeh to emphasize the subject The gorgeous and creamy bokeh allows the use of narrow depth of field to make subjects stand out from the background. In addition to Super ED (extra-low dispersion) and ED elements in a new optical design, each lens is individually calibrated during manufacture to optimize bokeh quality. An 11-blade circular aperture mechanism contributes to smooth, rounded bokeh.
4 Fast, precise AF brings out the full potential of advanced cameras The lens maximizes the speed potential of high-performance cameras, making it easy to capture important moments in dynamic sports action or fast-moving wildlife scenes. Two high thrust XD (extreme dynamic) Linear Motors and an advanced control algorithm have been specially fine-tuned for fast response. Additionally, AF tracking speed and precision are maintained even when shooting continuous bursts.
FEATURE BULLETS
Rank Feature Description Feature Asset
5 The lightest1 in its class and ideally balanced for precise, agile handling An optical design that includes Super ED (extra-low dispersion) glass elements reduces the subjective weight by using fewer elements near the front of the lens, so that the weight is not concentrated at the front. This optimizes balance and reduces moment of inertia, allowing precise, agile lens movement and panning while shooting.
6 Optical SteadyShot™ stabilization for sharp handheld telephoto images Built-in optical image stabilization makes it easier to shoot sharp images handheld at telephoto focal lengths. MODE 2 offers ideal stabilization for panned shots, while MODE 34 provides enhanced stabilization for dynamic, unpredictable sports action. Additionally, compatible cameras5 provide detailed communication and control that can effectively manage blur.
7 Nano AR coating II suppresses reflections, flare and ghosting Sony's original Nano AR Coating II produces a uniform anti-reflection coating on lens surfaces, minimizing flare and ghosting in challenging lighting. Reflections inside the lens barrel are also carefully controlled for crisp, clear images.
8 Function ring provides direct access to power focus or frame size selection A programmable function ring directly controls power focus or Full-frame/APS-C selection. Power Focus (default) initiates constant speed focusing in the selected rotation direction. Or select Full-frame/APS-C for instant selection of frame size by rotating the ring.
9 Full-time Direct Manual Focus (DMF) to access MF while in autofocus mode When the Full-time DMF switch is ON, manual focus is immediately engaged by simply rotating the focus ring, even while shooting in the AF-C mode. DMF can be used to correct focus when the autofocus targets the wrong subject or to focus beyond a set focus range limit. Releasing the MF ring instantly restores AF function.
10 Precise, repeatable and linear response manual focus ring Linear Response MF ensures that the focus ring responds directly, repeatably and linearly to subtle control when focusing manually. Focus ring rotation translates directly to a corresponding change in focus, so control feels immediate and precise when shooting stills or movies.
11 Four customizable focus hold buttons and focus range limiter switch Customizable focus hold buttons are provided in four locations for easy, instant access when shooting in any orientation. Several alternate functions can be assigned from the camera's menu. Focus range limiter switch allows the autofocus range to be set from 6 meters to infinity, or allow full range AF with no limit.
12 Support for rear-mounted drop-in filters6 The SEL300F28GM can use standard 40.5 mm diameter drop-in ND and other filters as well as Sony's own VF-DCPL1 circular polarizer.
13 High AF tracking performance with 1.4x and 2.0x teleconverters Fast, precise AF performance is available even when the SEL300F28GM is used with the optional SEL14TC (1.4x) or SEL20TC (2.0x) teleconverter.
12 Dust and moisture resistant for robust reliability3 A dust and moisture resistant design provides extra reliability. The use of a durable magnesium alloy for internal components and other refinements maximizes durability while reducing weight.
13 Fluorine front element coating The front lens element features a fluorine coating that repels water, oil, and other contaminants, while making it easier to wipe off any contaminants or fingerprints that do become attached to the lens surface.
15 ALC-SH175 lens hood and padded soft case supplied A new lens hood design uses a high-strength engineering plastic that provides an ideal blend of durability and low weight. A dedicated soft case that protects the lens against vibration is also supplied. Also, lens strap is supplied as well.
Share
View full details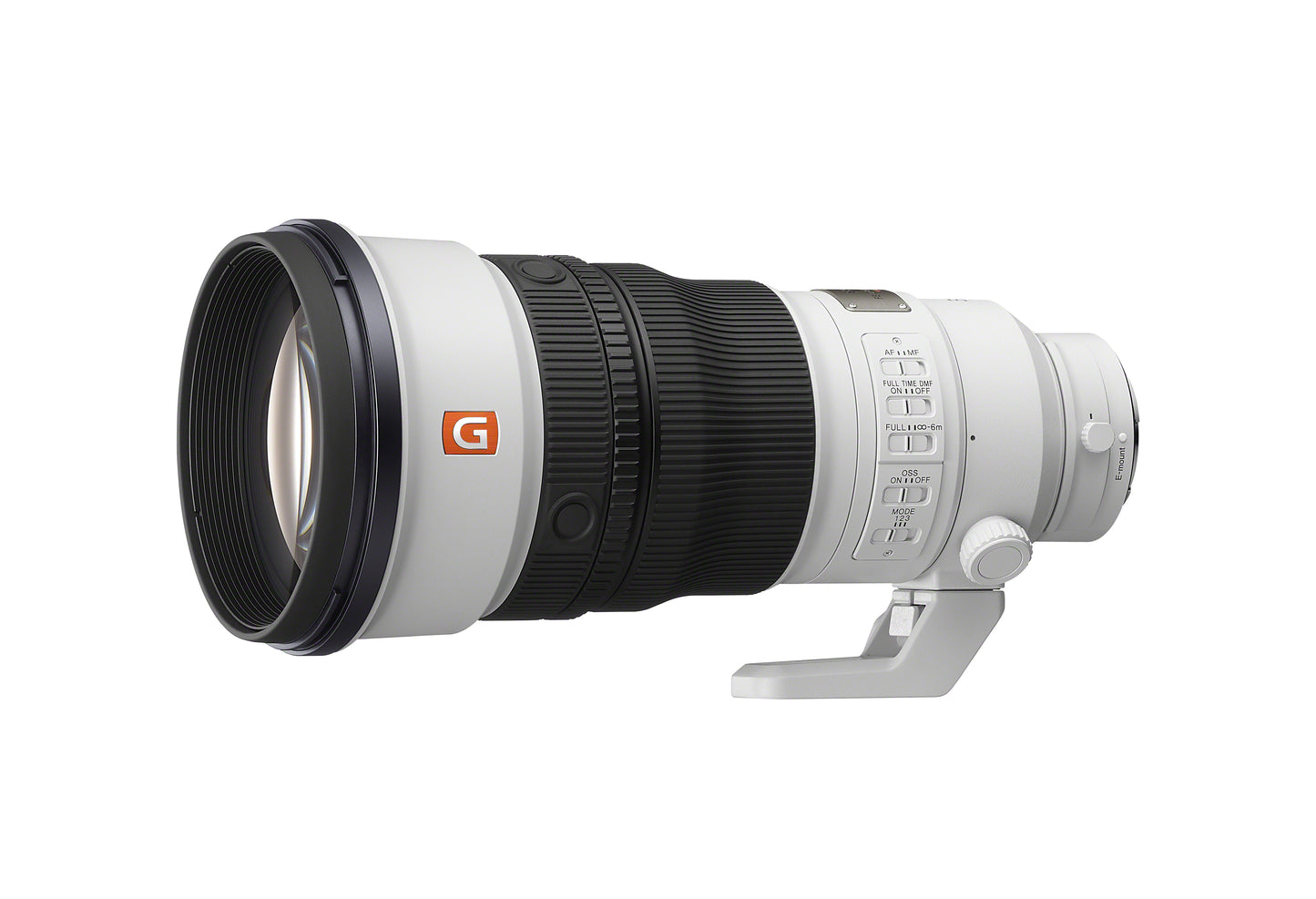 Acima Financing
Cant pay all at once? Finance your purchase through Acima and pay over 90 days interest free.
Sign Up Now