SKU:ILCE-9M3
Regular price
$ 5,999.99 USD
Regular price
Sale price
$ 5,999.99 USD
Unit price
per
Sale
Sold out
1 Unprecedented imagery from the world's first1 camera with global shutter full-frame image sensor The α9 III features the world's first1 full-frame stacked 24.6 MP2 CMOS image sensor with a global shutter system. Unlike a rolling shutter sensor that records images sequentially from the top row of pixels to the bottom, the newly developed Exmor RS™ image sensor exposes and reads all pixels simultaneously so the camera can capture fast-moving subjects with absolutely no rolling shutter distortion. Combined with a maximum shutter speed of 1/80,000 second (1/16,000 second during continuous shooting)4, the α9 III is a game changer for professional photography.
2 Blackout-free, 120 fps continuous shooting with full AF/AE tracking The α9 III is defined by speed and accuracy, enabling it to capture decisive moments with ease. It's capable of shooting continuous bursts at up to 120 fps with full AF/AE tracking3, all without viewfinder blackout, and its highly advanced AI processing unit recognizes subjects with astonishingly high precision and reliability.
3 Preserve split-second moments with maximum shutter speed of 1/80,000 second4 At 1/80,000 second4, the maximum shutter speed of the α9 III makes it easy to capture fast-moving subjects in almost any situation. What's more, a compatible flash unit from Sony (such as the HVL-F60RM2 or HVL-F46RM)5 can synchronize at all shutter speeds, eliminating the steep, nonlinear drop-off in illumination that occurs with high-speed sync (HSS) and ensuring even illumination across the image.
4 Exmor RS image sensor with global shutter system The new full-frame global shutter image sensor is equipped with 24.6 million effective pixels, a stacked CMOS architecture and integral memory. This offers high resolution, overwhelming speed, and simultaneous full-pixel readout, so even fast-moving subjects can be captured distortion-free. The sensor's stacked structure and advanced A/D conversion enable high-speed processing to proceed with minimal delay.
5 BIONZ XR™ image processing engine boosts overall processing speed by up to 8x6 With up to eight times6 more processing power than previous versions, the BIONZ XR image processing engine minimizes processing latency while markedly boosting image processing power. The high volume of data generated by the newly developed Exmor RS™ image sensor can be processed in real time even while shooting continuous bursts at up to 120 fps3 to significantly improves image quality. The camera can also capture high-quality 14-bit RAW images in all still shooting modes.
6 Composite RAW Shooting reduces noise Composite RAW Shooting captures multiple images (4, 8, 16, or 32, selectable) which can then be merged using Sony's Imaging Edge Desktop™ computer application software to create full-resolution images with very low noise.7 This makes it possible to shoot wildlife at high shutter speeds or portraits in low light, achieving exceptionally high image quality with low noise, even at higher ISO settings. When shooting at low sensitivity levels, the α9 III can use Composite RAW to create images with reduced false color and jaggies. [1] Standard [2] Composite RAW
FEATURE BULLETS
7 Advanced optical 5-axis image stabilization Shoot handheld with confidence. The α9 III is packed with a high-precision image stabilization unit, advanced gyro sensors, and optimized image stabilization algorithms to effectively detect and correct camera shake, offering 8.0-step8 stabilization. This is further supported by compatible lenses with built-in image stabilization9 and improved communication between the camera and lenses, providing effective control for blur-free shooting even at telephoto focal lengths. [1] Yaw [2] Roll [3] Pitch
8 Blackout-free shooting for uninterrupted view during fast-paced shooting Enjoy an uninterrupted view through the blackout-free viewfinder, even during fast-paced continuous shooting — a game changer for shooting sports and other fast-moving subjects. What's more, the distracting time lag that is usually associated with EVF viewing has been reduced to a minimum, so that fleeting moments can be captured with confidence.
9 Up to 120 AF/AE tracking calculations per second10 Let the camera keep track — the high-speed readout of the new image sensor enables the α9 III to make up to 120 AF/AE tracking calculations per second10, twice that of its predecessor. AF tracks complex subject motions and predicts sudden movements with greater precision than ever before, while AE easily responds to sudden brightness variations. The α9 III continues to track even during continuous shooting, also contributing to greater precision. (1) AF/AE calculations (2) 120 frames/sec
10 Never miss a moment with Pre-Capture11 Pre-Capture records the moments that occurred before the shutter was released. Settable from 0.005 to 1 second12, it's available in any file format up to 120 fps3 with full AF/AE tracking. This makes it easier to capture split-second moments, such as images of birds taking flight, even if actual shutter release is a little late.
11 Continuous Shooting Speed Boost rapidly increases frame rate to capture the action Continuous Shooting Speed Boost13 temporarily boosts the shooting speed while shooting bursts, ensuring you capture all the action. This is beneficial when shooting sports and other fast-paced activities when the timing of the key moment can be roughly predicted.
12 Real-time Recognition AF14 identifies and tracks subjects even if face/eye obscured With its innovative AI processing unit, the α9 III can use subject form data to accurately recognize movement. Human pose estimation technology recognizes not just eyes but also body and head position with high precision. This makes it possible to lock onto and track a subject facing away from the camera or whose face is covered. A distant human subject that occupies only a small area of the frame (even smaller than in previous Real-time Recognition AF iterations) can be recognized if the subject is near the focus area when the shutter is half-pressed while shooting with continuous AF. This can speed up focus acquisition on an athlete approaching from a distance at a track-and-field or ski event, for example.
FEATURE BULLETS
13 Reliable recognition of a wider range of subjects The AI processing unit supports enhanced Human, Animal, Bird, Insect, Car/Train and Airplane14 recognition. In the Car/Train category, it is now capable of recognizing helmets, such as those worn by the drivers of formula race cars. Animal recognition can recognize the eyes of some grazing and small animals, in addition to the eyes, heads, and bodies of dogs, cats, and similarly featured animals. Bird recognition has also been updated, more easily pinpointing the eyes of a variety of bird types as well as recognizing bird bodies. Plus, a new Animal/Bird setting eliminates the need to switch between two settings to shoot animals or birds. (643)
14 Wide, fast, precise autofocus and tracking The α9 III now features 75915 phase-detection points in a high-density focal plane phase-detection AF system that covers approximately 95.6% of the image area. The large volume of data read from the image sensor is processed at high speed via the advanced BIONZ XR processing engine, while optimized algorithms ensure high accuracy and high density. This Fast Hybrid AF system combines the speed and tracking performance of phase-detection AF with the precision of contrast-detection AF, reliably locking onto and tracking subjects that move rapidly and/or erratically.
15 Match AF tracking response to subject movement Whether the subject is moving, still or changing speed, AF tracking can keep track. Simply select a setting [Stable], [Standard], and [Responsive], depending on the speed of the subject and shooting scenario.
16 Customizable focus area to match the subject Keep what you need in focus, with XL and XS focus area spot sizes added to the line-up. XS can be useful when shooting wildlife and trying to avoid focusing on foreground branches, for example. You can also create a custom focus area of specified size and even vertical aspect ratio if necessary. For example, at a track event where the participants are lined up side-by-side, setting the AF frame to a custom horizontal format could make it easier to focus on the leading runner.
17 Flash sync at up to 1/80,0004 shutter speed vastly expands creative possibilities With a compatible flash unit from Sony (such as the HVL-F60RM2 or HVL-F46RM5, the α9 III can perform full flash synchronization right up to the maximum 1/80,0004 second shutter speed. This allows flash to be used for extra subject illumination when shooting outdoors in bright daylight with a high shutter speed, reducing the need for large lighting setups and vastly expanding creative shooting possibilities.
18 Flicker-free shooting16 compensates for interference from artificial lighting The global-shutter image sensor exposes all pixels simultaneously, so flicker cannot occur within a single image, but may appear between frames. To reduce this type of flicker, Anti-flicker Shooting16 or Hi frequency flicker-free shooting (Var. Shutter) functions can be used. (1) α9 III (2) Rolling shutter image sensor
FEATURE BULLETS
19 Global shutter eliminates flash banding The α9 III's advanced image sensor is equipped with a global shutter system that exposes and reads out all pixels at once, eliminating exposure differences that can arise, for example, when shooting alongside press photographers covering an event. This eradicates the issue of "flash banding" that is common in cameras that use a rolling shutter system.
20 4K movies free of rolling shutter with high resolution and detail Shoot 4K movies in either the full-frame or Super 35mm (approx. APS-C) formats. The α9 III captures 4K (3840 x 2160) movies at up to 120p, and at 60p with full pixel readout and 6K oversampling for dramatically reduced moiré and jaggies.
21 4K 120p17 without cropping for the first time in an α camera For the first time in the α line-up from Sony, the α9 III offers 4K (3840 x 2160) 120p movie recording without cropping, allowing users to utilize the full angle of view provided by any lens. For example, 4K footage shot in slow motion 120p and footage shot at normal speed 24p within the same scene will have the same angle of view and can be easily edited together without the need for reframing.
22 S-Cinetone™ for a cinematic look without the need for color grading Sony's S-Cinetone picture profile provides the same color science that delivers beautiful colors and skin tones throughout the highly regarded Cinema Line range. S-Cinetone produces natural mid-tones that are essential to healthy-looking skin, plus soft colors and gorgeous highlights. This lets creators concentrate on shooting while achieving a cinematic look without the need for color grading.
23 Breathing compensation for consistent angle of view when focusing18 Focus breathing compensation effectively reduces focus breathing when shooting movies. Sony's original Clear Image Zoom technology is used to automatically maintain a consistent angle of view throughout focus changes for more stable images.
24 Dynamic active Mode stabilization19 A high-precision stabilization unit and gyro sensors built into the camera, plus optimized image stabilization algorithms, allow advanced electronic stabilization to work in conjunction with the camera's 5-axis optical in-body image stabilization system in a Dynamic active Mode that improves stabilization by more than 30% over the existing Active Mode (approx.)20.
25 Auto Framing21 keeps the subject in a prominent position when shooting movies Using AI-based subject recognition technology, the Auto Framing feature automatically crops the frame to keep the subject in a prominent position when shooting movies. Even when the camera is mounted on a tripod, for example, the framing is continually adjusted so that the recorded footage looks like the subject was being followed by an experienced camera operator. (367)
FEATURE BULLETS
26 Uniquely flexible tilting monitor for enhanced shooting flexibility The α9 III features a 4-axis multi-angle monitor that combines the utility of a conventional tilting monitor with side-opening vari-angle flexibility, allowing for unrestricted angle adjustment whether shooting vertically or horizontally. Slim, unobtrusive, and robust22, the mechanism enables the monitor to be pulled away from the rear of the body and tilted upward by up to 98°, downward by up to 40°, and swung sideways by up to 180°. The touch sensitive, 3.2 type LCD monitor is optimized for outdoor shooting, providing 2.1 million-dot resolution, a wide color gamut and ample brightness for clear and easy viewing.
27 New front Custom button provides easier operation while holding the grip An update to the Sony's Alpha design, the α9 III comes with a custom button on the front for faster, easier operation while holding the grip. This makes it even more adaptable to different shooting styles and needs. For example, you can assign the Continuous Speed Shooting Boost function to the front button to allow instant speed boost when shooting bursts.
28 QXGA 9.44 million dot viewfinder with up to 240fps refresh rate The 9.44 million-dot (approx.) OLED viewfinder includes 0.90x23 magnification with a 41° FOV for a clear, wide view, and an updated structure that results in a 25 mm high eyepoint24. An original optical design minimizes aberration that can be distracting when looking around the viewfinder image, providing a more consistent viewing experience. Viewfinder and monitor lag time have also been reduced to allow more stable framing, especially during continuous shooting. The finder frame rate can be set to Standard (60 fps), High (120 fps), or Higher (240 fps)25. The 240 fps setting provides an extremely smooth viewfinder image with minimum motion blur when shooting moving subjects, and greatly reduces motion blur when panning or tilting.
29 Dual CFexpress Type A /SDXC/SDHC compatible media slots As well as UHS-I and UHS-II SD cards, the α9 III's media slots support CFexpress Type A cards. These are ideally suited to high-speed continuous still shooting at up to 120 fps3 and provide high write speeds that quickly clear the buffers of cameras that generate high volumes of still image and movie data. Users can also save data to different media slots according to file type, image size, and image quality, streamlining workflow. (440)
30 Optional VG-C5 Vertical Grip The optional VG-C5 Vertical Grip provides outstanding comfort and operability for long shooting sessions. The grip and shutter button feature the same ergonomic design as the camera body. Control access is similar too, with an independent front custom button (C5), a front dial, rear L and R dials, and a lock function on the R dial. The VG-C5 Vertical Grip can house two NP-FZ100 batteries for extended shooting sessions.
31 Rugged reliability for challenging environments The α9 III features outstanding dust and moisture resistance, thanks to design refinements with silicone rubber packing around buttons, lens-lock button, cushioning around the lens mount, and other areas. An improved EVF design effectively seals the viewfinder's optical path, achieving the same effect as a double glass structure. Combined with dust and moisture resistant lenses, flash units, and the optional the VG-C5 Vertical Grip, the α9 III becomes the core of a rugged dust and moisture resistant system.26
FEATURE BULLETS
32 Robust and durable With lightweight, high-rigidity magnesium alloy for its top cover, front cover, internal frame, and rear cover, the α9 III boasts high body durability, high shock resistance and effective heat dissipation. It's built to withstand challenging professional environments while remaining relatively compact and lightweight.
33 Shading curtain closed on power-off A shading curtain protects the image sensor from dust and particles while changing lenses. When set to ON, it automatically closes when the camera's power is turned off.
34 Ergonomic grip design The α9 III features a grip with a new shape that improves hold and reduces physical stress on the user, even when shooting with heavy telephoto lenses or for long periods of time. An ergonomically refined contour ensures that the grip fills the user's hand for a secure hold that does not cause fatigue.
35 Improved group display Workflow efficiency gets a drastic boost thanks to image groups. Images taken at up to 120 fps3 in continuous bursts can be defined as "groups," making it easier to locate a specific image within a large group of images. These groups can also be assigned a rating, which can then be used for filtering and searching, and are retained after the images are imported into a computer editing application27.
36 Built-in Wi-Fi for FTP and smartphone transfers plus PC Remote tethering Built-in Wi-Fi (IEEE 802.11ac) with 2x2 MIMO support allows high-speed data transfer, enabling the α9 III to transfer data up to twice as fast as its predecessor. 5 GHz28 communication offers maximum speed and stability, essential for news and sports shooters who need to deliver immediately, as well as for studio environments. The simple in-camera interface makes it easy to transfer still and movie data via an FTP server, Wi-Fi, fast-wired LAN, or USB tethering with a smartphone.
37 Clearer voice memo recording Add clear voice memo metadata to still images through a dedicated voice memo microphone that's built into the camera's rear panel, close to the user's mouth for better recording quality. Voice memos can be transferred to an FTP server along with the corresponding images, allowing the photographer to communicate effectively to the editor. The photographer can also use the Transfer & Tagging (Ver. 1.9 or later) mobile application to convert the voice memos to text29.
38 Multiple IPTC presets IPTC (International Press Telecommunications Council) metadata can be added to still images, with the α9 III capable of internally storing up to 20 presets that can then be quickly selected when needed. This can be extremely useful at multi-sports events, for example, where different IPTC information is required for different competitions.
39 Dedicated Still/Movie/S&Q dial for flexible hybrid operation Independently operable stacked drive mode and focus mode dials allow fast access and selection.
FEATURE BULLETS
40 Anti-dust system increases dust removal efficiency Driven by an ultrasonic actuator, a filter in front of the image sensor oscillates at more than 70000 cycles per second, effectively removing dust and particles from the filter surface.
41 1000BASE-T Ethernet for fast communication The α9 III provides a built-in connector for wired 1000BASE-T, enabling fast, stable, up to 1 Gbps data transfers, and remote shooting data transfer operations, including remote shooting at up to 1 Gbps.
42 USB Type-C® connector supports SuperSpeed USB 10 Gbps (USB 3.2) A USB Type-C® connector supports fast SuperSpeed USB 10 Gbps (USB 3.2) data transfer for backups as well as PC Remote (tethered) shooting. It also supports USB PD (Power Delivery30 for reliable power delivery and battery charging.
43 Touch operation during shooting and playback The Touch Focus, Touch Tracking and Touch Shutter functions can be sequentially activated by touching an icon on the shooting display. During playback images can be selected by touch.
44 UVC/UAC support for high-quality webcam applications Easy streaming in 4K30 is possible with a UVC/UAC compatible smartphone or PC31 via USB connection32, so the α9 III can be used as a high-resolution webcam.
45 USB PD (Power Delivery) supports fast charging The α9 III supports USB PD (Power Delivery), allowing higher power to be supplied from an external source. A USB charger or mobile battery that supports USB PD can be connected to the camera's USB Type-C® port, supplying power or charging the internal battery at three to four times the rate of the previous model.
Share
View full details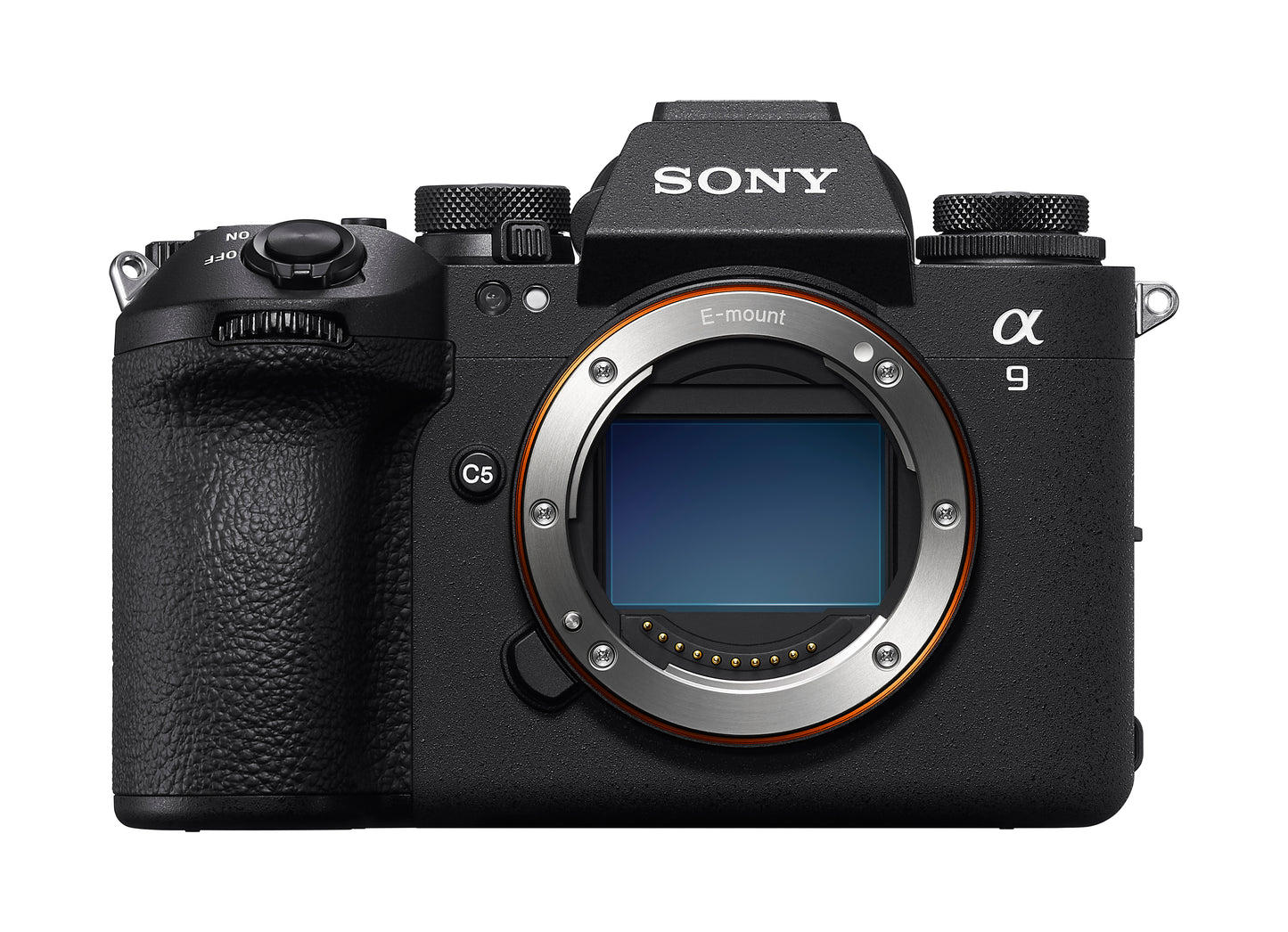 Acima Financing
Cant pay all at once? Finance your purchase through Acima and pay over 90 days interest free.
Sign Up Now