SKU:611-352
Regular price
$ 29.95 USD
Regular price
Sale price
$ 29.95 USD
Unit price
per
Sale
Sold out
Do you ever wish you had a small tripod so you wouldn't have to place a camera on a table, the ground, or try to balance it on a railing to get a longer timed shot in low light?  But at the same time you are sure you don't want to carry around a full sized tripod.  The SLIK MINI PRO V just might be your answer.  
First its small. It can ride in your camera bag in the same space as a lens.   It's light, weighing only 12 ounces.  
Second, the SLIK Mini Pro V has an easy-to-use 2-way pan head with simple one handle operation for locking and unlocking the head to position the camera quickly and easily. Just twist the handle to loosen the head, point the camera to frame your subject and twist the handle in the other way to lock the head and camera in position, simple.
Third its expandable, the legs extend a little more than an inch for added stability and the MINI PRO III has a center column that raises about 2 inches to get the camera a little higher off the ground, rock, table or whatever you are putting it on.   
Besides its traditional use as a tripod, the SLIK Mini Pro III is also a "Chest-Pod" camera support. To use it as a chest-pod, first loosen the locking collar around the center column, raise the center column at least one inch and tighten. Then, with the legs spread, place the feet of the legs against your upper chest. Loosen the tripod head and position the camera so you can see through the viewfinder comfortably. This will better stabilize the camera and help avoid image degrading "camera shake."
Share
View full details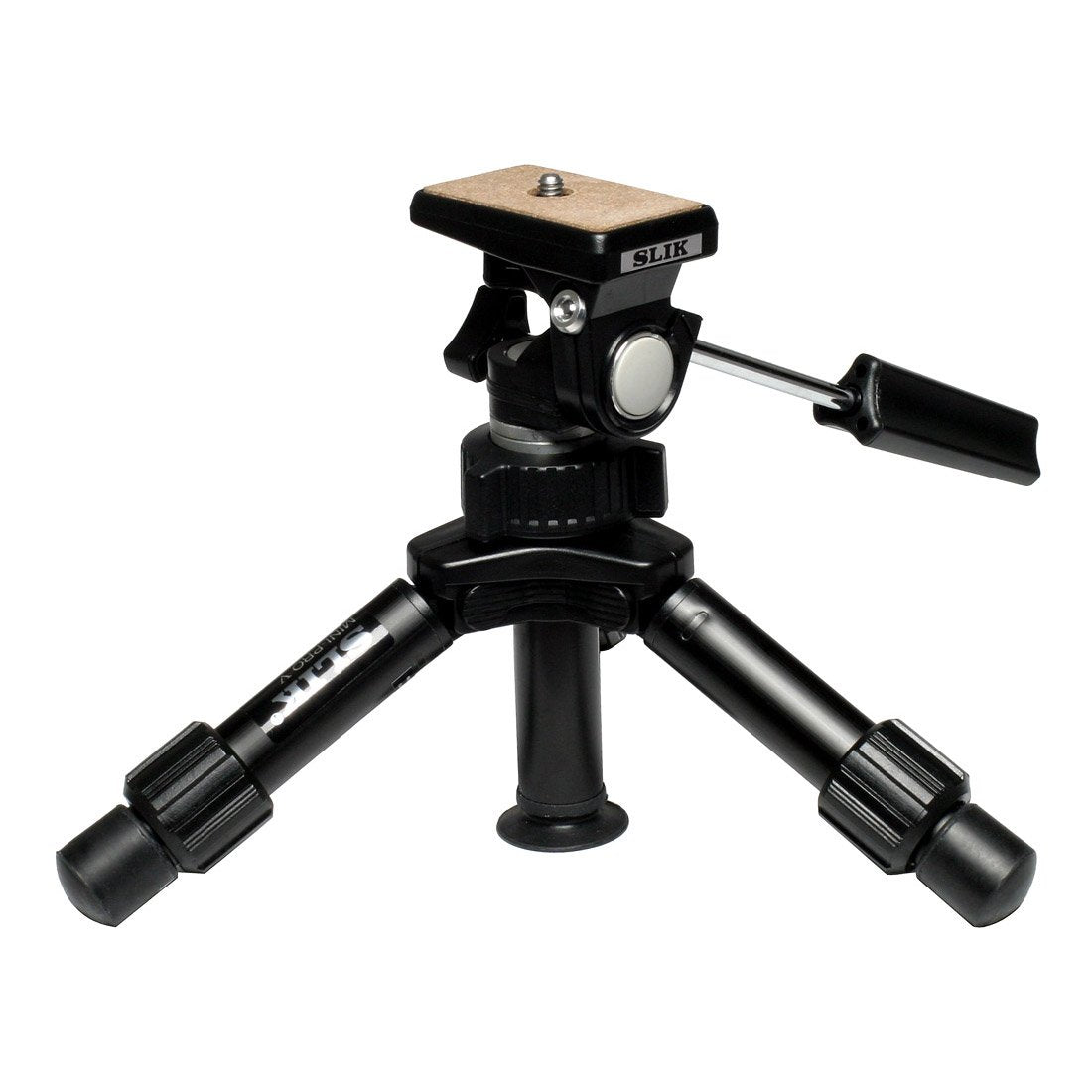 Acima Financing
Cant pay all at once? Finance your purchase through Acima and pay over 90 days interest free.
Sign Up Now