SKU:50117
Regular price
$ 10.00 USD
Regular price
Sale price
$ 10.00 USD
Unit price
per
Sale
Sold out
PEC*PAD®
 

non-abrasive wipes are strong, lint-free and pure (99.999%). They are so soft and versatile that they can be safely used to clean all types of sensitive surfaces such as scanners, CD's, mirrors, lenses, telescopes, even ink jet print heads. Our pads are available in two convenient sizes: The 4 x 4 inch (10 cm.sq.) wipes are perfect for cleaning 35mm film and other small areas as well as lenses and other sensitive optics, and the 9 x 9 inch (25 cm.sq.) wipes, which are best suited for larger film or print formats, murals, scanners, etc.
USING PEC*PAD® non-abrasive wipes on photographic emulsions with Pec-12® photographic emulsion cleaner :
Our pads can be safely used on all hardened photographic emulsions, including films and papers. Extreme care must be used with 35mm chromogenic film because the base of these films are very easily scratched. They can also be used on coated or uncoated photographic lenses, binoculars and telescopes without scratching delicate coatings. Put the image to be cleaned onto a sheet of glass (light table) or onto the emulsion side of a clean old scrap RC print. Dispense a few drops of liquid onto a clean pad. With the gentle pressure of two or three extended fingers start at one end of the film/print to be cleaned, and smoothly move your fingers toward the opposite end in a straight line removing contaminants from the emulsion by transferring them to the pad. Extremely grimy stains (such sticky tape residue) may need a second or even a third pass (using a clean pad and additional fluid). Any material applied with enough pressure will ultimately cause scratches, but normal, prudent use of PEC*PAD® non-abrasive wipes will provide scratch free cleaning of slides, negatives and prints.
Share
View full details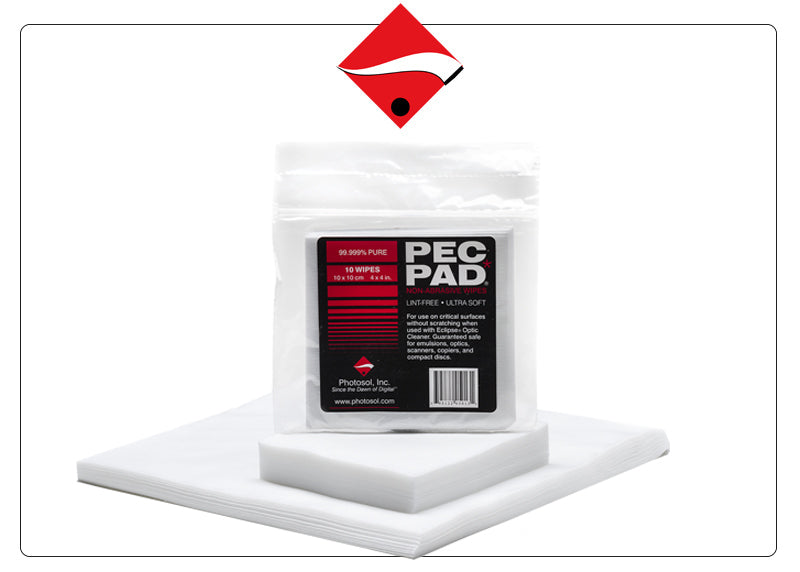 Acima Financing
Cant pay all at once? Finance your purchase through Acima and pay over 90 days interest free.
Sign Up Now