SKU:GS-51R32
Regular price
$ 29.99 USD
Regular price
Sale price
$ 29.99 USD
Unit price
per
Sale
Sold out
The ZUMA 32 inch 5-in-1 Collapsible Reflector Kit is versatile both in the field and in the studio. It  lightens shadows in your subject, using available light, flash or LED lighting. It consists of a translucent disc, which is perfect for softening direct sunlight, or lights without diffusion. The removable, reversible zippered slipcover goes over the translucent disk. The cover consists of the following colors: silver, gold, white and sunlight. This reflector is perfect for 3/4 length portraits, and still-life setups. It folds down to 1/3 its open size, and comes with a carry case. The colored slipcovers provide the following effects:
Silver increases the specular highlights and produces a high-contrast image. Excellent for video, product shots and B&W photography.
Gold produces a natural, warm golden fill that is great for sunsets and indoor portraits. Use to create a "candlelight effect.
White produces an even, neutral-colored bounce light that works well as a fill light. Reduces harsh shadows.
Sunlight is a subtle woven sliver/gold color on a special pattern. It provides excellent reflectance with just a hint of warming. Excellent for portraits.
Translucent is used to diffuse light, and is used between the light source and the subject. Especially handy outside when the primary light source is the sun. Produces a soft, wraparound effect
Includes a pouch bag for storage. The reflectors twist fold for storage. When removed they pop-out to their final round shape.
Share
View full details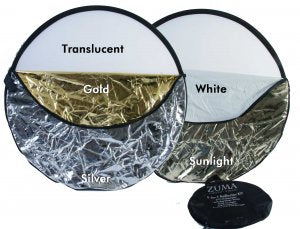 Acima Financing
Cant pay all at once? Finance your purchase through Acima and pay over 90 days interest free.
Sign Up Now