SKU:CCDIS3
Regular price
$ 279.00 USD
Regular price
Sale price
$ 279.00 USD
Unit price
per
Sale
Sold out
Perfect Color And More Control Than You Ever Thought Possible
Color Perfectionists shouldn't guess when it comes to on-screen color accuracy. The color you see on your monitor or projector is the color you should expect from your printer. Once you take the guesswork and frustration out of calibrating and profiling your displays, you'll save time and money while gaining full creative control over your images.
And now, with the ability to change the color grading of video footage growing by leaps and bounds the necessity for accurate color representation on screen is even more paramount. The only way to edit video accurately is to view your footage accurately. With the included video color standards you can also make sure that what you see is what you'll get throughout your digital video workflow.
State of the Art Instrument for Unrivalled Color Measurement Accuracy
Calibrite ColorChecker Display Pro powered by X-Rite incorporates technologically advanced filter and optical systems, amazingly fast measurement speed, and unrivalled color accuracy on all modern display technologies including LED & Wide Gamut LCDs. It's also spectrally calibrated, which makes it field upgradeable to support future display technologies.
The ultra-modern ergonomic design incorporates three functions – ambient light measurement, monitor profiling, and projector profiling – into a very sleek, compact and fully integrated device with no parts to misplace.
Intuitive all-in-one design is very easy to use
Compact and self-contained for maximum portability
Custom-designed RGB filter set provides accurate color measurements
Optical design allows for high repeatability on the same display and across different display types for more consistent color matching
Rotatable diffuser arm can be used as a stand for tabletop projector profiling, ambient light measurement and as a cover for instrument optics
Conveniently integrated tripod mount for projector profiling in larger venues
Calibrite ccProfiler software powered by X-Rite with "Basic" and "Advanced" Mode Flexibility
The color management software offers the ultimate flexibility and control. "Basic" mode offers a wizard-driven interface with predefined options for the quickest path to professional on-screen color. "Advanced" mode offers user-defined options for more sophisticated profiling workflows to deliver the highest quality color results on monitors and projectors, as well as display testing and quality assurance tools. No matter which mode you use, you'll be able to attain professional color results for a more perfect match between your display and printer.
Share
View full details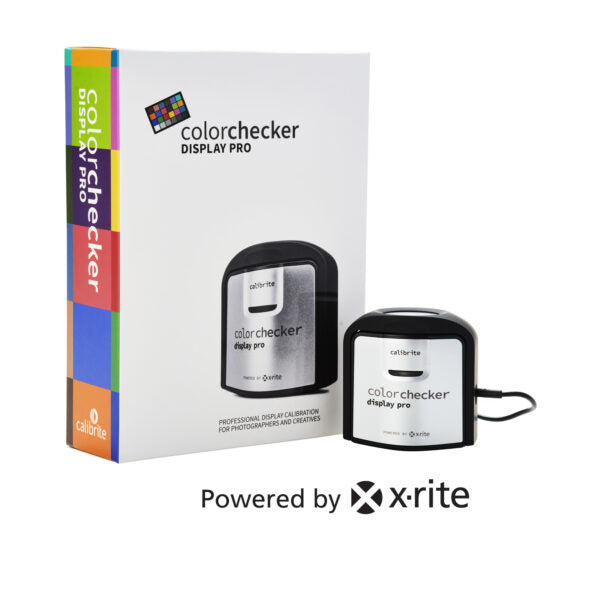 Acima Financing
Cant pay all at once? Finance your purchase through Acima and pay over 90 days interest free.
Sign Up Now