SKU:401002
Regular price
$ 119.95 USD
Regular price
Sale price
$ 119.95 USD
Unit price
per
Sale
Sold out
Description
Nicole Elliott by BLACKRAPID ~ A camera sling designed by women for women. With its innovative functionality, maximum comfort and unique style, this strap will change the way you photograph life.
Your camera should be an extension of you, not an annoyance to carry. Your camera gear should add to your creative energy – not inhibit it. Taking its cue from the way women have been carrying their babies for centuries, Nicole Elliott by BLACKRAPID takes the pressure points away from your neck and shoulders by "hugging" your shoulder to evenly distribute the weight. Allowing you to have full mobility and making your camera feel virtually weightless. Shoot for hours without feeling fatigue, discomfort or pain!
The shoulder pad is reversible — black on both sides — with two lens cap pouches and two zippered pockets for memory cards, batteries and whatever other small accessories you want to keep close. And the strap adjusts to up to 63" in total length, ensuring a perfect fit for any body type.
Reversible for Right- or Left-handed wear
Shoulder Piece – Removable, Reversible and Washable*
Strap length with shoulder piece – 63" (160cm) fully extended total circumference
Shoulder piece – approximately 7.5"x 23.5"
Two zippered pockets 4"x4.5"
Two lens cap pouches 4"x4.5"
Two front and back cam locks
Quick adjustment
Webbing 100% nylon
Webbing width 1"
Product weight 6.35oz
LockStar Breathe and Camera Safety Tether included
Two Gate Keeper attachments for reversibility
Features:
Ergonomically Correct. Even weight distribution takes the pressure off your neck and shoulders, making your camera feel weightless.
Durable, water resistant fabric.
Reversible, washable fabric shoulder pad – black on both sides.
Reversible front or back strap adjustment for left- or right-handed users.
Two zippered pockets 4"x4.5"
Two lens cap pouches 4"x4.5″
Extendable up to 63" in circumference.
Front and back spring-loaded cam locks.
Swivel ConnectR (CR-3) and FastenR (FR-5) connection system.
LockStar Breathe cover to secure carabiner.
Camera Safety Tether included for extra security.
*Laundering: Detach Shoulder Strap from nylon strap and rings. Wash by hand with mild soap. Lay flat to dry.
The heart behind Nicole Elliott by BLACKRAPID:
"We are mothers, we are daughters, we are wives and friends…
We love deeply and live passionately.
We are surrounded by a world of wonder and amazement, from little laughs and giggles, to the beautiful people that surround us and the everyday moments that steal our hearts.
Life is a journey…. A bunch of little moments that together make up one big beautiful life.
My hope is that the Elliott strap helps you capture the life around you Confidently, Creatively, Passionately…without borders.
Here's to a beautiful life captured one shot at a time – one moment at a time.
Every moment, #LiveTheMoment. In comfort and style."
~ Nicole Elliott
Share
View full details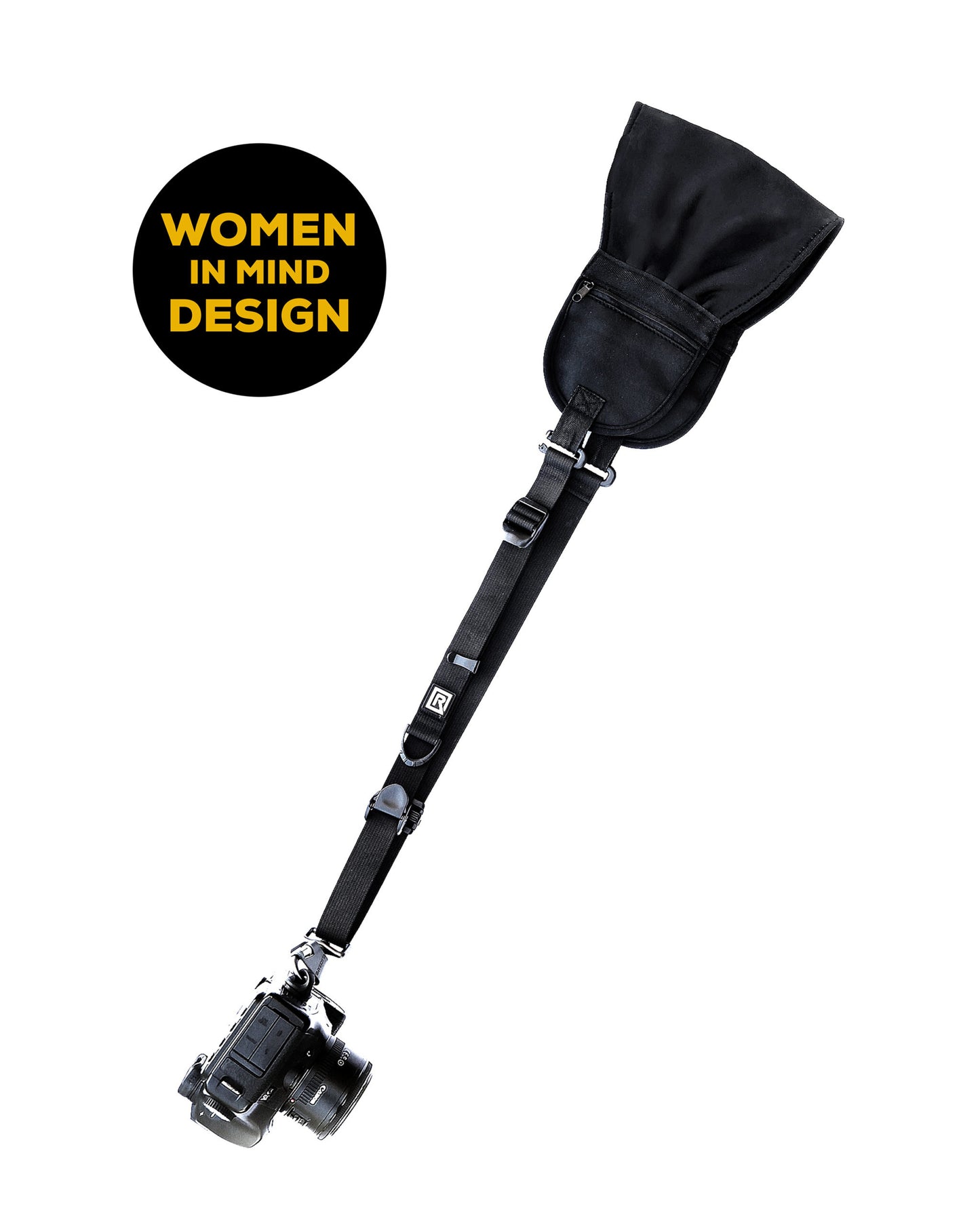 Acima Financing
Cant pay all at once? Finance your purchase through Acima and pay over 90 days interest free.
Sign Up Now